National Hockey League (NHL) Hockey Hall of Fame Inductees
Additional National Hockey League (NHL) Information
National Hockey League (NHL) Hall of Fame
The Hockey Hall of Fame was established in 1943 and is located in Toronto, Ontario, Canada. Initial plans for the Hall of Fame were for it to reside in Kingston Ontario, however due to delays in construction the actual location was moved to Toronto. The original NHL Hockey Hall of Fame opened on August 26th, 1961 on the Exhibition Place grounds. Bobby Hewitson was the first Curator of the Hall of Fame. In 1992 the Toronto Hockey Hall of Fame was relocated to a former Bank of Montreal location in downtown Toronto.
It is a hall of fame and museum dedicated to the history of ice hockey. Originally, there were two categories for induction, players and builders, and in 1961, a third category for on-ice officials was introduced. In 1988, a "veteran player category" was established in order to "provide a vehicle for players who may have been overlooked and whose chances for election would be limited when placed on the same ballot with contemporary players." Eleven players were inducted into the category, but in 2000 the board of directors eliminated it and those inductees are now considered to be in the player category.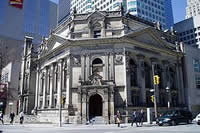 For a person to be inducted to the Hockey Hall of Fame, they must be nominated by an elected 18-person selection committee which consists of Hockey Hall of Fame members and media personalities. Each committee member is allowed to nominate one person in each category per year, and candidates must receive the support of 75% of the members of the committee that are present, or a minimum of ten votes.
Nominations must be submitted to the chairman of the board of governors by April 15. The committee then meets in June to vote and a secret ballot is held. In any given year, there can be a maximum of four players, two builders, and one referee or linesman. For a player, referee, or linesman to be nominated, the person must have been retired for a minimum three years. Builders may be "active or inactive". The induction ceremony is held at the current Hall of Fame building.
Years listed below indicate NHL player's experiance.
Year of Induction into Hall of Fame - 1945
Year of Induction into Hall of Fame - 0
Year of Induction into Hall of Fame - 1945
| | | |
| --- | --- | --- |
| Montagu Allan | Builder Category | |
| Montagu Allan | Builder Category | |
| Montagu Allan | Builder Category | |
| Frederick Stanley | Builder Category | |
| Frederick Stanley | Builder Category | |
| Frederick Stanley | Builder Category | |
| Hobey Baker | Player Category | |
| Hobey Baker | Player Category | |
| Hobey Baker | Player Category | |
| Charlie Gardiner | Player Category | 1927 to 1933 |
| Charlie Gardiner | Player Category | 1927 to 1933 |
| Charlie Gardiner | Player Category | 1927 to 1933 |
| Eddie Gerard | Player Category | 1917 to 1922 |
| Eddie Gerard | Player Category | 1917 to 1922 |
| Eddie Gerard | Player Category | 1917 to 1922 |
| Frank McGee | Player Category | |
| Frank McGee | Player Category | |
| Frank McGee | Player Category | |
| Howie Morenz | Player Category | 1923 to 1936 |
| Howie Morenz | Player Category | 1923 to 1936 |
| Howie Morenz | Player Category | 1923 to 1936 |
| Tommy Phillips | Player Category | |
| Tommy Phillips | Player Category | |
| Tommy Phillips | Player Category | |
| Harvey Pulford | Player Category | |
| Harvey Pulford | Player Category | |
| Harvey Pulford | Player Category | |
| Hod Stuart | Player Category | |
| Hod Stuart | Player Category | |
| Hod Stuart | Player Category | |
| Georges Vezina | Player Category | 1917 to 1925 |
| Georges Vezina | Player Category | 1917 to 1925 |
| Georges Vezina | Player Category | 1917 to 1925 |
Year of Induction into Hall of Fame - 1947
| | | |
| --- | --- | --- |
| Frank Calder | Builder Category | |
| Frank Calder | Builder Category | |
| Frank Calder | Builder Category | |
| William Hewitt | Builder Category | |
| William Hewitt | Builder Category | |
| William Hewitt | Builder Category | |
| Francis Nelson | Builder Category | |
| Francis Nelson | Builder Category | |
| Francis Nelson | Builder Category | |
| William Northey | Builder Category | |
| William Northey | Builder Category | |
| William Northey | Builder Category | |
| John Robertson | Builder Category | |
| John Robertson | Builder Category | |
| John Robertson | Builder Category | |
| Claude Robinson | Builder Category | |
| Claude Robinson | Builder Category | |
| Claude Robinson | Builder Category | |
| James Sutherland | Builder Category | |
| James Sutherland | Builder Category | |
| James Sutherland | Builder Category | |
| Russell Bowie | Player Category | |
| Russell Bowie | Player Category | |
| Russell Bowie | Player Category | |
| Dit Clapper | Player Category | 1927 to 1946 |
| Dit Clapper | Player Category | 1927 to 1946 |
| Dit Clapper | Player Category | 1927 to 1946 |
| Aurel Joliat | Player Category | 1922 to 1937 |
| Aurel Joliat | Player Category | 1922 to 1937 |
| Aurel Joliat | Player Category | 1922 to 1937 |
| Frank Nighbor | Player Category | 1917 to 1929 |
| Frank Nighbor | Player Category | 1917 to 1929 |
| Frank Nighbor | Player Category | 1917 to 1929 |
| Lester Patrick | Player Category | 1926 to 1927 |
| Lester Patrick | Player Category | 1926 to 1927 |
| Lester Patrick | Player Category | 1926 to 1927 |
| Eddie Shore | Player Category | 1926 to 1939 |
| Eddie Shore | Player Category | 1926 to 1939 |
| Eddie Shore | Player Category | 1926 to 1939 |
| Cyclone Taylor | Player Category | |
| Cyclone Taylor | Player Category | |
| Cyclone Taylor | Player Category | |
Year of Induction into Hall of Fame - 1949
| | | |
| --- | --- | --- |
| Dan Bain | Player Category | |
| Dan Bain | Player Category | |
| Dan Bain | Player Category | |
| Art Ross | Player Category | 1917 to 1917 |
| Art Ross | Player Category | 1917 to 1917 |
| Art Ross | Player Category | 1917 to 1917 |
Year of Induction into Hall of Fame - 1950
| | | |
| --- | --- | --- |
| Frank Patrick | Builder Category | |
| Frank Patrick | Builder Category | |
| Frank Patrick | Builder Category | |
| Allan (Scotty) Davidson | Player Category | |
| Graham Drinkwater | Player Category | |
| Graham Drinkwater | Player Category | |
| Graham Drinkwater | Player Category | |
| Mike Grant | Player Category | |
| Mike Grant | Player Category | |
| Mike Grant | Player Category | |
| Si Griffis | Player Category | |
| Si Griffis | Player Category | |
| Si Griffis | Player Category | |
| Newsy Lalonde | Player Category | 1917 to 1926 |
| Newsy Lalonde | Player Category | 1917 to 1926 |
| Newsy Lalonde | Player Category | 1917 to 1926 |
| Joe Malone | Player Category | 1917 to 1923 |
| Joe Malone | Player Category | 1917 to 1923 |
| Joe Malone | Player Category | 1917 to 1923 |
| George Richardson | Player Category | |
| George Richardson | Player Category | |
| George Richardson | Player Category | |
| Harry Trihey | Player Category | |
| Harry Trihey | Player Category | |
| Harry Trihey | Player Category | |
Year of Induction into Hall of Fame - 1952
| | | |
| --- | --- | --- |
| Dickie Boon | Player Category | |
| Dickie Boon | Player Category | |
| Dickie Boon | Player Category | |
| Bill Cook | Player Category | 1926 to 1936 |
| Bill Cook | Player Category | 1926 to 1936 |
| Bill Cook | Player Category | 1926 to 1936 |
| Moose Goheen | Player Category | |
| Moose Goheen | Player Category | |
| Moose Goheen | Player Category | |
| Moose Johnson | Player Category | |
| Moose Johnson | Player Category | |
| Moose Johnson | Player Category | |
| Mickey MacKay | Player Category | 1926 to 1929 |
| Mickey MacKay | Player Category | 1926 to 1929 |
| Mickey MacKay | Player Category | 1926 to 1929 |
| Nels Stewart | Player Category | 1925 to 1939 |
| Nels Stewart | Player Category | 1925 to 1939 |
| Nels Stewart | Player Category | 1925 to 1939 |
Year of Induction into Hall of Fame - 1958
Year of Induction into Hall of Fame - 1959
Year of Induction into Hall of Fame - 1960
| | | |
| --- | --- | --- |
| Charles Adams | Builder Category | |
| Charles Adams | Builder Category | |
| Charles Adams | Builder Category | |
| John Kilpatrick | Builder Category | |
| John Kilpatrick | Builder Category | |
| John Kilpatrick | Builder Category | |
| Frank Selke | Builder Category | |
| Frank Selke | Builder Category | |
| Frank Selke | Builder Category | |
| Georges Boucher | Player Category | 1917 to 1931 |
| Georges Boucher | Player Category | 1917 to 1931 |
| Georges Boucher | Player Category | 1917 to 1931 |
| Sylvio Mantha | Player Category | 1923 to 1936 |
| Sylvio Mantha | Player Category | 1923 to 1936 |
| Sylvio Mantha | Player Category | 1923 to 1936 |
| Jack Walker | Player Category | 1926 to 1927 |
| Jack Walker | Player Category | 1926 to 1927 |
| Jack Walker | Player Category | 1926 to 1927 |
Year of Induction into Hall of Fame - 1961
| | | |
| --- | --- | --- |
| George Brown | Builder Category | |
| George Brown | Builder Category | |
| George Brown | Builder Category | |
| Paul Loicq | Builder Category | |
| Paul Loicq | Builder Category | |
| Paul Loicq | Builder Category | |
| Fred Waghorne | Builder Category | |
| Fred Waghorne | Builder Category | |
| Fred Waghorne | Builder Category | |
| Syl Apps | Player Category | 1936 to 1947 |
| Syl Apps | Player Category | 1936 to 1947 |
| Syl Apps | Player Category | 1936 to 1947 |
| Charlie Conacher | Player Category | 1929 to 1940 |
| Charlie Conacher | Player Category | 1929 to 1940 |
| Charlie Conacher | Player Category | 1929 to 1940 |
| Hap Day | Player Category | 1924 to 1937 |
| Hap Day | Player Category | 1924 to 1937 |
| Hap Day | Player Category | 1924 to 1937 |
| George Hainsworth | Player Category | 1926 to 1936 |
| George Hainsworth | Player Category | 1926 to 1936 |
| George Hainsworth | Player Category | 1926 to 1936 |
| Joe Hall | Player Category | 1917 to 1918 |
| Joe Hall | Player Category | 1917 to 1918 |
| Joe Hall | Player Category | 1917 to 1918 |
| Percy LeSueur | Player Category | |
| Percy LeSueur | Player Category | |
| Percy LeSueur | Player Category | |
| Frank Rankin | Player Category | |
| Frank Rankin | Player Category | |
| Frank Rankin | Player Category | |
| Maurice Richard | Player Category | 1942 to 1959 |
| Maurice Richard | Player Category | 1942 to 1959 |
| Maurice Richard | Player Category | 1942 to 1959 |
| Milt Schmidt | Player Category | 1936 to 1954 |
| Milt Schmidt | Player Category | 1936 to 1954 |
| Milt Schmidt | Player Category | 1936 to 1954 |
| Oliver Seibert | Player Category | |
| Oliver Seibert | Player Category | |
| Oliver Seibert | Player Category | |
| Bruce Stuart | Player Category | |
| Bruce Stuart | Player Category | |
| Bruce Stuart | Player Category | |
| Chaucer Elliott | Referee/Linesman Category | |
| Chaucer Elliott | Referee/Linesman Category | |
| Chaucer Elliott | Referee/Linesman Category | |
| Mickey Ion | Referee/Linesman Category | |
| Mickey Ion | Referee/Linesman Category | |
| Mickey Ion | Referee/Linesman Category | |
| Cooper Smeaton | Referee/Linesman Category | |
| Cooper Smeaton | Referee/Linesman Category | |
| Cooper Smeaton | Referee/Linesman Category | |
Year of Induction into Hall of Fame - 1962
| | | |
| --- | --- | --- |
| Frank Ahearn | Builder Category | |
| Frank Ahearn | Builder Category | |
| Frank Ahearn | Builder Category | |
| Walter Brown | Builder Category | |
| Walter Brown | Builder Category | |
| Walter Brown | Builder Category | |
| Fred Hume | Builder Category | |
| Fred Hume | Builder Category | |
| Fred Hume | Builder Category | |
| James Norris | Builder Category | |
| James D. Norris | Builder Category | |
| James Norris | Builder Category | |
| James Norris | Builder Category | |
| J. Ambrose O'Brien | Builder Category | |
| Frank Smith | Builder Category | |
| Frank Smith | Builder Category | |
| Frank Smith | Builder Category | |
| Punch Broadbent | Player Category | 1918 to 1928 |
| Punch Broadbent | Player Category | 1918 to 1928 |
| Punch Broadbent | Player Category | 1918 to 1928 |
| Harry Cameron | Player Category | 1917 to 1922 |
| Harry Cameron | Player Category | 1917 to 1922 |
| Harry Cameron | Player Category | 1917 to 1922 |
| Rusty Crawford | Player Category | 1917 to 1918 |
| Rusty Crawford | Player Category | 1917 to 1918 |
| Rusty Crawford | Player Category | 1917 to 1918 |
| Jack Darragh | Player Category | 1917 to 1923 |
| Jack Darragh | Player Category | 1917 to 1923 |
| Jack Darragh | Player Category | 1917 to 1923 |
| James Henry (Jimmy) Gardner | Player Category | |
| Billy Gilmour | Player Category | |
| Billy Gilmour | Player Category | |
| Billy Gilmour | Player Category | |
| Shorty Green | Player Category | 1923 to 1926 |
| Shorty Green | Player Category | 1923 to 1926 |
| Shorty Green | Player Category | 1923 to 1926 |
| Riley Hern | Player Category | |
| Riley Hern | Player Category | |
| Riley Hern | Player Category | |
| Tom Hooper | Player Category | |
| Tom Hooper | Player Category | |
| Tom Hooper | Player Category | |
| Bowse Hutton | Player Category | |
| Bowse Hutton | Player Category | |
| Bowse Hutton | Player Category | |
| Harry Hyland | Player Category | 1917 to 1917 |
| Harry Hyland | Player Category | 1917 to 1917 |
| Harry Hyland | Player Category | 1917 to 1917 |
| Jack Laviolette | Player Category | 1917 to 1917 |
| Jack Laviolette | Player Category | 1917 to 1917 |
| Jack Laviolette | Player Category | 1917 to 1917 |
| Steamer Maxwell | Player Category | |
| Steamer Maxwell | Player Category | |
| Steamer Maxwell | Player Category | |
| Billy McGimsie | Player Category | |
| Billy McGimsie | Player Category | |
| Billy McGimsie | Player Category | |
| Reg Noble | Player Category | 1917 to 1932 |
| Reg Noble | Player Category | 1917 to 1932 |
| Reg Noble | Player Category | 1917 to 1932 |
| Didier Pitre | Player Category | 1917 to 1922 |
| Didier Pitre | Player Category | 1917 to 1922 |
| Didier Pitre | Player Category | 1917 to 1922 |
| Jack Ruttan | Player Category | |
| Jack Ruttan | Player Category | |
| Jack Ruttan | Player Category | |
| Sweeney Schriner | Player Category | 1934 to 1945 |
| Sweeney Schriner | Player Category | 1934 to 1945 |
| Sweeney Schriner | Player Category | 1934 to 1945 |
| Joe Simpson | Player Category | 1925 to 1930 |
| Joe Simpson | Player Category | 1925 to 1930 |
| Joe Simpson | Player Category | 1925 to 1930 |
| Alf Smith | Player Category | |
| Alf Smith | Player Category | |
| Alf Smith | Player Category | |
| Barney Stanley | Player Category | 1927 to 1927 |
| Barney Stanley | Player Category | 1927 to 1927 |
| Barney Stanley | Player Category | 1927 to 1927 |
| Marty Walsh | Player Category | |
| Marty Walsh | Player Category | |
| Marty Walsh | Player Category | |
| Harry Westwick | Player Category | |
| Harry Westwick | Player Category | |
| Harry Westwick | Player Category | |
| Fred Whitcroft | Player Category | |
| Fred Whitcroft | Player Category | |
| Fred Whitcroft | Player Category | |
| Phat Wilson | Player Category | |
| Phat Wilson | Player Category | |
| Phat Wilson | Player Category | |
| Mike Rodden | Referee/Linesman Category | |
| Mike Rodden | Referee/Linesman Category | |
| Mike Rodden | Referee/Linesman Category | |
Year of Induction into Hall of Fame - 1963
| | | |
| --- | --- | --- |
| Leo Dandurand | Builder Category | |
| Leo Dandurand | Builder Category | |
| Leo Dandurand | Builder Category | |
| Tommy Gorman | Builder Category | |
| Tommy Gorman | Builder Category | |
| Tommy Gorman | Builder Category | |
| Frederic McLaughlin | Builder Category | |
| Frederic McLaughlin | Builder Category | |
| Frederic McLaughlin | Builder Category | |
| Ebbie Goodfellow | Player Category | 1929 to 1942 |
| Ebbie Goodfellow | Player Category | 1929 to 1942 |
| Ebbie Goodfellow | Player Category | 1929 to 1942 |
| Joe Primeau | Player Category | 1927 to 1935 |
| Joe Primeau | Player Category | 1927 to 1935 |
| Joe Primeau | Player Category | 1927 to 1935 |
| Earl Seibert | Player Category | 1931 to 1945 |
| Earl Seibert | Player Category | 1931 to 1945 |
| Earl Seibert | Player Category | 1931 to 1945 |
| Bobby Hewitson | Referee/Linesman Category | |
| Bobby Hewitson | Referee/Linesman Category | |
| Bobby Hewitson | Referee/Linesman Category | |
Year of Induction into Hall of Fame - 1964
| | | |
| --- | --- | --- |
| Angus Campbell | Builder Category | |
| Angus Campbell | Builder Category | |
| Angus Campbell | Builder Category | |
| Frank Dilio | Builder Category | |
| Doug Bentley | Player Category | 1939 to 1953 |
| Doug Bentley | Player Category | 1939 to 1953 |
| Doug Bentley | Player Category | 1939 to 1953 |
| Bill Durnan | Player Category | 1943 to 1949 |
| Bill Durnan | Player Category | 1943 to 1949 |
| Bill Durnan | Player Category | 1943 to 1949 |
| Babe Siebert | Player Category | 1925 to 1938 |
| Babe Siebert | Player Category | 1925 to 1938 |
| Babe Siebert | Player Category | 1925 to 1938 |
| Jack Stewart | Player Category | 1938 to 1951 |
| Jack Stewart | Player Category | 1938 to 1951 |
| Jack Stewart | Player Category | 1938 to 1951 |
| Bill Chadwick | Referee/Linesman Category | |
| Bill Chadwick | Referee/Linesman Category | |
| Bill Chadwick | Referee/Linesman Category | |
Year of Induction into Hall of Fame - 1965
| | | |
| --- | --- | --- |
| Foster Hewitt | Builder Category | |
| Foster Hewitt | Builder Category | |
| Foster Hewitt | Builder Category | |
| Thomas Lockhart | Builder Category | |
| Marty Barry | Player Category | 1927 to 1939 |
| Marty Barry | Player Category | 1927 to 1939 |
| Marty Barry | Player Category | 1927 to 1939 |
| Clint Benedict | Player Category | 1917 to 1929 |
| Clint Benedict | Player Category | 1917 to 1929 |
| Clint Benedict | Player Category | 1917 to 1929 |
| Art Farrell | Player Category | |
| Art Farrell | Player Category | |
| Art Farrell | Player Category | |
| Red Horner | Player Category | 1928 to 1939 |
| Red Horner | Player Category | 1928 to 1939 |
| Red Horner | Player Category | 1928 to 1939 |
| Syd Howe | Player Category | 1929 to 1945 |
| Syd Howe | Player Category | 1929 to 1945 |
| Syd Howe | Player Category | 1929 to 1945 |
| Jack Marshall | Player Category | |
| Jack Marshall | Player Category | |
| Jack Marshall | Player Category | |
| Bill Mosienko | Player Category | 1941 to 1954 |
| Bill Mosienko | Player Category | 1941 to 1954 |
| Bill Mosienko | Player Category | 1941 to 1954 |
| Blair Russel | Player Category | |
| Ernie Russell | Player Category | |
| Ernie Russell | Player Category | |
| Ernie Russell | Player Category | |
| Fredrick (Fred) Scanlan | Player Category | |
Year of Induction into Hall of Fame - 1966
Year of Induction into Hall of Fame - 1967
| | | |
| --- | --- | --- |
| Turk Broda | Player Category | 1936 to 1951 |
| Turk Broda | Player Category | 1936 to 1951 |
| Turk Broda | Player Category | 1936 to 1951 |
| Neil Colville | Player Category | 1935 to 1948 |
| Neil Colville | Player Category | 1935 to 1948 |
| Neil Colville | Player Category | 1935 to 1948 |
| Harry Oliver | Player Category | 1926 to 1936 |
| Harry Oliver | Player Category | 1926 to 1936 |
| Harry Oliver | Player Category | 1926 to 1936 |
| Red Storey | Referee/Linesman Category | |
| Red Storey | Referee/Linesman Category | |
| Red Storey | Referee/Linesman Category | |
Year of Induction into Hall of Fame - 1968
| | | |
| --- | --- | --- |
| Jimmy Dunn | Builder Category | |
| Jimmy Dunn | Builder Category | |
| Jimmy Dunn | Builder Category | |
| Jim Hendy | Builder Category | |
| Jim Hendy | Builder Category | |
| Jim Hendy | Builder Category | |
| Bill Cowley | Player Category | 1934 to 1946 |
| Bill Cowley | Player Category | 1934 to 1946 |
| Bill Cowley | Player Category | 1934 to 1946 |
Year of Induction into Hall of Fame - 1969
| | | |
| --- | --- | --- |
| Al Leader | Builder Category | |
| Al Leader | Builder Category | |
| Al Leader | Builder Category | |
| Bruce Norris | Builder Category | |
| Bruce Norris | Builder Category | |
| Bruce Norris | Builder Category | |
| Sid Abel | Player Category | 1938 to 1953 |
| Sid Abel | Player Category | 1938 to 1953 |
| Sid Abel | Player Category | 1938 to 1953 |
| Bryan Hextall | Player Category | 1936 to 1947 |
| Bryan Hextall | Player Category | 1936 to 1947 |
| Bryan Hextall | Player Category | 1936 to 1947 |
| Red Kelly | Player Category | 1947 to 1966 |
| Red Kelly | Player Category | 1947 to 1966 |
| Red Kelly | Player Category | 1947 to 1966 |
| Roy Worters | Player Category | 1925 to 1936 |
| Roy Worters | Player Category | 1925 to 1936 |
| Roy Worters | Player Category | 1925 to 1936 |
Year of Induction into Hall of Fame - 1970
Year of Induction into Hall of Fame - 1971
Year of Induction into Hall of Fame - 1972
Year of Induction into Hall of Fame - 1973
| | | |
| --- | --- | --- |
| Hartland Molson | Builder Category | |
| Hartland Molson | Builder Category | |
| Hartland Molson | Builder Category | |
| Doug Harvey | Player Category | 1947 to 1968 |
| Doug Harvey | Player Category | 1947 to 1968 |
| Doug Harvey | Player Category | 1947 to 1968 |
| Chuck Rayner | Player Category | 1940 to 1952 |
| Chuck Rayner | Player Category | 1940 to 1952 |
| Chuck Rayner | Player Category | 1940 to 1952 |
| Tommy Smith | Player Category | 1919 to 1919 |
| Tommy Smith | Player Category | 1919 to 1919 |
| Tommy Smith | Player Category | 1919 to 1919 |
| Frank Udvari | Referee/Linesman Category | |
| Frank Udvari | Referee/Linesman Category | |
| Frank Udvari | Referee/Linesman Category | |
Year of Induction into Hall of Fame - 1974
| | | |
| --- | --- | --- |
| Charles Hay | Builder Category | |
| Charles Hay | Builder Category | |
| Charles Hay | Builder Category | |
| Tommy Ivan | Builder Category | |
| Tommy Ivan | Builder Category | |
| Tommy Ivan | Builder Category | |
| Anatoli Tarasov | Builder Category | |
| Anatoli Tarasov | Builder Category | |
| Anatoli Tarasov | Builder Category | |
| Carl Voss | Builder Category | |
| Carl Voss | Builder Category | |
| Carl Voss | Builder Category | |
| Billy Burch | Player Category | 1922 to 1932 |
| Billy Burch | Player Category | 1922 to 1932 |
| Billy Burch | Player Category | 1922 to 1932 |
| Art Coulter | Player Category | 1931 to 1941 |
| Art Coulter | Player Category | 1931 to 1941 |
| Art Coulter | Player Category | 1931 to 1941 |
| Tommy Dunderdale | Player Category | |
| Tommy Dunderdale | Player Category | |
| Tommy Dunderdale | Player Category | |
| Dickie Moore | Player Category | 1951 to 1967 |
| Dickie Moore | Player Category | 1951 to 1967 |
| Dickie Moore | Player Category | 1951 to 1967 |
Year of Induction into Hall of Fame - 1975
Year of Induction into Hall of Fame - 1976
| | | |
| --- | --- | --- |
| Jack Gibson | Builder Category | |
| Jack Gibson | Builder Category | |
| Jack Gibson | Builder Category | |
| Philip Ross | Builder Category | |
| Philip Ross | Builder Category | |
| Philip Ross | Builder Category | |
| William Wirtz | Builder Category | |
| William Wirtz | Builder Category | |
| William Wirtz | Builder Category | |
| Johnny Bower | Player Category | 1953 to 1969 |
| Johnny Bower | Player Category | 1953 to 1969 |
| Johnny Bower | Player Category | 1953 to 1969 |
| Bill Quackenbush | Player Category | 1942 to 1955 |
| Bill Quackenbush | Player Category | 1942 to 1955 |
| Bill Quackenbush | Player Category | 1942 to 1955 |
Year of Induction into Hall of Fame - 1977
| | | |
| --- | --- | --- |
| Bunny Ahearne | Builder Category | |
| Bunny Ahearne | Builder Category | |
| Bunny Ahearne | Builder Category | |
| Harold Ballard | Builder Category | |
| Harold Ballard | Builder Category | |
| Harold Ballard | Builder Category | |
| Joseph Cattarinich | Builder Category | |
| Joseph Cattarinich | Builder Category | |
| Joseph Cattarinich | Builder Category | |
| Alex Delvecchio | Player Category | 1950 to 1973 |
| Alex Delvecchio | Player Category | 1950 to 1973 |
| Alex Delvecchio | Player Category | 1950 to 1973 |
| Tim Horton | Player Category | 1949 to 1973 |
| Tim Horton | Player Category | 1949 to 1973 |
| Tim Horton | Player Category | 1949 to 1973 |
Year of Induction into Hall of Fame - 1978
| | | |
| --- | --- | --- |
| John Bickell | Builder Category | |
| John Bickell | Builder Category | |
| John Bickell | Builder Category | |
| Sam Pollock | Builder Category | |
| Sam Pollock | Builder Category | |
| Sam Pollock | Builder Category | |
| William Tutt | Builder Category | |
| William Tutt | Builder Category | |
| William Tutt | Builder Category | |
| Andy Bathgate | Player Category | 1952 to 1970 |
| Andy Bathgate | Player Category | 1952 to 1970 |
| Andy Bathgate | Player Category | 1952 to 1970 |
| Jacques Plante | Player Category | 1952 to 1972 |
| Jacques Plante | Player Category | 1952 to 1972 |
| Jacques Plante | Player Category | 1952 to 1972 |
| Marcel Pronovost | Player Category | 1949 to 1969 |
| Marcel Pronovost | Player Category | 1949 to 1969 |
| Marcel Pronovost | Player Category | 1949 to 1969 |
Year of Induction into Hall of Fame - 1979
Year of Induction into Hall of Fame - 1980
Year of Induction into Hall of Fame - 1981
Year of Induction into Hall of Fame - 1982
Year of Induction into Hall of Fame - 1983
Year of Induction into Hall of Fame - 1984
Year of Induction into Hall of Fame - 1985
Year of Induction into Hall of Fame - 1986
Year of Induction into Hall of Fame - 1987
Year of Induction into Hall of Fame - 1988
Year of Induction into Hall of Fame - 1989
| | | |
| --- | --- | --- |
| David Bauer | Builder Category | |
| David Bauer | Builder Category | |
| David Bauer | Builder Category | |
| Herbie Lewis | Player Category | 1928 to 1938 |
| Herbie Lewis | Player Category | 1928 to 1938 |
| Herbie Lewis | Player Category | 1928 to 1938 |
| Darryl Sittler | Player Category | 1970 to 1984 |
| Darryl Sittler | Player Category | 1970 to 1984 |
| Darryl Sittler | Player Category | 1970 to 1984 |
| Vladislav Tretiak | Player Category | |
| Vladislav Tretiak | Player Category | |
| Vladislav Tretiak | Player Category | |
Year of Induction into Hall of Fame - 1990
Year of Induction into Hall of Fame - 1991
| | | |
| --- | --- | --- |
| Scotty Bowman | Builder Category | |
| Scotty Bowman | Builder Category | |
| Scotty Bowman | Builder Category | |
| Mike Bossy | Player Category | 1977 to 1986 |
| Mike Bossy | Player Category | 1977 to 1986 |
| Mike Bossy | Player Category | 1977 to 1986 |
| Denis Potvin | Player Category | 1973 to 1987 |
| Denis Potvin | Player Category | 1973 to 1987 |
| Denis Potvin | Player Category | 1973 to 1987 |
| Bob Pulford | Player Category | 1956 to 1971 |
| Bob Pulford | Player Category | 1956 to 1971 |
| Bob Pulford | Player Category | 1956 to 1971 |
| Clint Smith | Player Category | 1936 to 1946 |
| Clint Smith | Player Category | 1936 to 1946 |
| Clint Smith | Player Category | 1936 to 1946 |
| Neil Armstrong | Referee/Linesman Category | |
| Neil Armstrong | Referee/Linesman Category | |
| Neil Armstrong | Referee/Linesman Category | |
Year of Induction into Hall of Fame - 1992
| | | |
| --- | --- | --- |
| Keith Allen | Builder Category | |
| Keith Allen | Builder Category | |
| Keith Allen | Builder Category | |
| Bob Johnson | Builder Category | |
| Bob Johnson | Builder Category | |
| Bob Johnson | Builder Category | |
| Frank Mathers | Builder Category | |
| Frank Mathers | Builder Category | |
| Frank Mathers | Builder Category | |
| Marcel Dionne | Player Category | 1971 to 1988 |
| Marcel Dionne | Player Category | 1971 to 1988 |
| Marcel Dionne | Player Category | 1971 to 1988 |
| Woody Dumart | Player Category | 1935 to 1953 |
| Woody Dumart | Player Category | 1935 to 1953 |
| Woody Dumart | Player Category | 1935 to 1953 |
| Bob Gainey | Player Category | 1973 to 1988 |
| Bob Gainey | Player Category | 1973 to 1988 |
| Bob Gainey | Player Category | 1973 to 1988 |
| Lanny McDonald | Player Category | 1973 to 1988 |
| Lanny McDonald | Player Category | 1973 to 1988 |
| Lanny McDonald | Player Category | 1973 to 1988 |
Year of Induction into Hall of Fame - 1993
| | | |
| --- | --- | --- |
| Frank Griffiths | Builder Category | |
| Frank Griffiths | Builder Category | |
| Frank Griffiths | Builder Category | |
| Seymour Knox | Builder Category | |
| Seymour Knox | Builder Category | |
| Seymour Knox | Builder Category | |
| Frederick Page | Builder Category | |
| Guy Lapointe | Player Category | 1968 to 1983 |
| Guy Lapointe | Player Category | 1968 to 1983 |
| Guy Lapointe | Player Category | 1968 to 1983 |
| Edgar Laprade | Player Category | 1945 to 1954 |
| Edgar Laprade | Player Category | 1945 to 1954 |
| Edgar Laprade | Player Category | 1945 to 1954 |
| Steve Shutt | Player Category | 1972 to 1984 |
| Steve Shutt | Player Category | 1972 to 1984 |
| Steve Shutt | Player Category | 1972 to 1984 |
| Billy Smith | Player Category | 1971 to 1988 |
| Billy Smith | Player Category | 1971 to 1988 |
| Billy Smith | Player Category | 1971 to 1988 |
| John D'Amico | Referee/Linesman Category | |
| John D'Amico | Referee/Linesman Category | |
| John D'Amico | Referee/Linesman Category | |
Year of Induction into Hall of Fame - 1994
| | | |
| --- | --- | --- |
| Brian O'Neill | Builder Category | |
| Brian O'Neill | Builder Category | |
| Brian O'Neill | Builder Category | |
| Lionel Conacher | Player Category | 1925 to 1936 |
| Lionel Conacher | Player Category | 1925 to 1936 |
| Lionel Conacher | Player Category | 1925 to 1936 |
| Harry Watson | Player Category | 1941 to 1956 |
| Harry Watson | Player Category | |
| Harry Watson | Player Category | 1941 to 1956 |
| Harry Watson | Player Category | |
| Harry Watson | Player Category | |
| Harry Watson | Player Category | 1941 to 1956 |
Year of Induction into Hall of Fame - 1995
| | | |
| --- | --- | --- |
| Gunther Sabetzki | Builder Category | |
| Gunther Sabetzki | Builder Category | |
| Gunther Sabetzki | Builder Category | |
| Bill Torrey | Builder Category | |
| Bill Torrey | Builder Category | |
| Bill Torrey | Builder Category | |
| Bun Cook | Player Category | 1926 to 1936 |
| Bun Cook | Player Category | 1926 to 1936 |
| Bun Cook | Player Category | 1926 to 1936 |
| Larry Robinson | Player Category | 1972 to 1991 |
| Larry Robinson | Player Category | 1972 to 1991 |
| Larry Robinson | Player Category | 1972 to 1991 |
Year of Induction into Hall of Fame - 1996
Year of Induction into Hall of Fame - 1997
Year of Induction into Hall of Fame - 1998
Year of Induction into Hall of Fame - 1999
| | | |
| --- | --- | --- |
| Ian (Scotty) Morrison | Builder Category | |
| Wayne Gretzky | Player Category | 1979 to 1998 |
| Wayne Gretzky | Player Category | 1979 to 1998 |
| Wayne Gretzky | Player Category | 1979 to 1998 |
| Andy Van Hellemond | Referee/Linesman Category | |
| Andy Van Hellemond | Referee/Linesman Category | |
| Andy Van Hellemond | Referee/Linesman Category | |
Year of Induction into Hall of Fame - 2000
| | | |
| --- | --- | --- |
| Walter Bush | Builder Category | |
| Walter Bush | Builder Category | |
| Walter Bush | Builder Category | |
| Joe Mullen | Player Category | 1979 to 1996 |
| Joe Mullen | Player Category | 1979 to 1996 |
| Joe Mullen | Player Category | 1979 to 1996 |
| Denis Savard | Player Category | 1980 to 1996 |
| Denis Savard | Player Category | 1980 to 1996 |
| Denis Savard | Player Category | 1980 to 1996 |
Year of Induction into Hall of Fame - 2001
Year of Induction into Hall of Fame - 2002
Year of Induction into Hall of Fame - 2003
| | | |
| --- | --- | --- |
| Mike Ilitch | Builder Category | |
| Brian Kilrea | Builder Category | |
| Brian Kilrea | Builder Category | |
| Brian Kilrea | Builder Category | |
| Grant Fuhr | Player Category | 1981 to 1999 |
| Grant Fuhr | Player Category | 1981 to 1999 |
| Grant Fuhr | Player Category | 1981 to 1999 |
| Pat LaFontaine | Player Category | 1983 to 1997 |
| Pat LaFontaine | Player Category | 1983 to 1997 |
| Pat LaFontaine | Player Category | 1983 to 1997 |
Year of Induction into Hall of Fame - 2004
Year of Induction into Hall of Fame - 2005
| | | |
| --- | --- | --- |
| Murray Costello | Builder Category | |
| Murray Costello | Builder Category | |
| Murray Costello | Builder Category | |
| Valeri Kharlamov | Player Category | |
| Valeri Kharlamov | Player Category | |
| Valeri Kharlamov | Player Category | |
| Cam Neely | Player Category | 1983 to 1995 |
| Cam Neely | Player Category | 1983 to 1995 |
| Cam Neely | Player Category | 1983 to 1995 |
Year of Induction into Hall of Fame - 2006
| | | |
| --- | --- | --- |
| Herb Brooks | Builder Category | |
| Herb Brooks | Builder Category | |
| Herb Brooks | Builder Category | |
| Harley Hotchkiss | Builder Category | |
| Harley Hotchkiss | Builder Category | |
| Harley Hotchkiss | Builder Category | |
| Dick Duff | Player Category | 1954 to 1971 |
| Dick Duff | Player Category | 1954 to 1971 |
| Dick Duff | Player Category | 1954 to 1971 |
| Patrick Roy | Player Category | 1984 to 2002 |
| Patrick Roy | Player Category | 1984 to 2002 |
| Patrick Roy | Player Category | 1984 to 2002 |
Year of Induction into Hall of Fame - 2007
Year of Induction into Hall of Fame - 2008
| | | |
| --- | --- | --- |
| Ed Chynoweth | Builder Category | |
| Ed Chynoweth | Builder Category | |
| Ed Chynoweth | Builder Category | |
| Glenn Anderson | Player Category | 1980 to 1995 |
| Glenn Anderson | Player Category | 1980 to 1995 |
| Glenn Anderson | Player Category | 1980 to 1995 |
| Igor Larionov | Player Category | 1989 to 2003 |
| Igor Larionov | Player Category | 1989 to 2003 |
| Igor Larionov | Player Category | 1989 to 2003 |
| Ray Scapinello | Referee/Linesman Category | |
| Ray Scapinello | Referee/Linesman Category | |
| Ray Scapinello | Referee/Linesman Category | |
Year of Induction into Hall of Fame - 2009